Dua ji bo Mary kemîna e
Dêra Katolîk ji me pir dûr di warê kotê Meryemê û vê yekê jî heta niha ji çi Incîlê yên di derbarê wê de ye.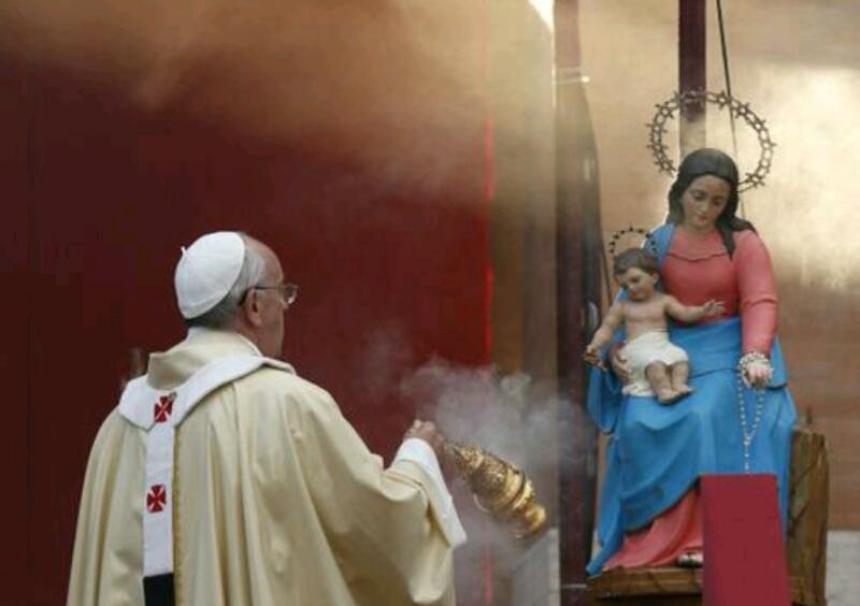 Papa belav bixûrê li ber peykerê Meryemê û baby Îsa.
Di hîndariya Şandiyan û di Ahîda Nû de ye ji hînkirinên ku li dora Mary pêşxistin ne, wê gavê em dikarin wan wek kemîna teklîf dike.
---
Av
Holger Nilsson
onsdag, 20 november 2019 16:41
---
Ev doktrîna kokên xwe di îbadeta putperestî yên Queen of ezmên
Ji ber vê yekê, ew e ku hînkirina evsene stand û divê bi awayekî zelal bê eşkerekirin. ye dîrok, bi riya biperize li çandên cuda û li occultism ya "Queen of Heaven". Di dûr, lê dikare were dîsa bi jina Nimrod de, Semiramis de bibînin. Hebûna anîn, kurê wê Tammuz, ew hem ji bo şahbanûya ezman û kirîv kir. (1 Num 10: 8-9).

Just bi navê "Şahbanûya * ezmên" Dêra Katolîk, bi navê xwe yê ji bo Mary e. Gava ku tu wê van hemûyan dibînin peykerên Mary û zarok ciwan, da ku wêneyê jina Nimrod û kurê kopiyek ji wan e.

Fikra gudamodern zarok hatiye on di çandên cuda dijîn. Veguheztina beherin to de ya Dêra Katolîk bawer hinek zanyar ji 300-ê sedsala xwarê û li Misirê ji dayîk bû ku ew Isis bi kurê xwe Horus jî perizîn *. The hikumdarîyê balkêş e. picture binêre.

In The New Encyclopedia Britannica, tu rastiyên jêr bigire: "hebandina diya Xwedê lidarxistin qebûl dema ku Church Christian bû li [Roman] dêra Împaratorîya bin Constantine û miletên din li girseyên dabiwerin nav civîna bawermendan. ... bawermendiya wan û hişê olî ji bo bi hezaran salan bi îbadetê yên 'Dayîka Mezin' û 'virgin divine', ev pêşketineke ku ji olên folk kevin, yên Babîlê û Asûran Ellahî Zarokekî teşe hebû. "

Li vir, em dikarin bibînin ku ev îbadeta ji xwedaya zikmakî daket ji dînên pagan, ew e ku bi peyva Xwedê, lê ji tebayên. Bi tenê vê rastiyê de divê çav-opener be, û ku çar aliyên xwe bi biperizin *, Meryema

Katolîk îlmîhalan dibêje ku Meryem li ser hemûyan re ye, lê Mizgînî dibêje ku Îsa e: "Ew bav in, û ji yê ku Mesîh hatiye wekî mirovekî, ku li ser hemû bê, Xwedê ji bo her û her pîroz. Amîn. "Roma. 9 ji 5.

Ev pir balkêş e û eşkere kir ku di Dêra Katolîk hîn dijî Bible - ev yek divê têra xwe ji vê civînê bin. Ku tu çiqas hewl didin ku divîyabû tiştê e, da diyar, ev tenê hewldanên hisabên ne dixwazin an ne dikarin bibînin, ka çi ji bo çavdêr li derve diyar dike ku tenê bimînînim çi Pîroz weha dibêje û çi Dêra Katolîk hîn ye.

Ev e rexne daxwaza ku ji vê nivîskî ne, ew li hêviyê ye ku kesên ku vê dêrê û Xiristiyanên din ku çavên wî vekirî de ne. Ma tu ji bo Mary, dua kir, Xwedê pirs ji bo bexşandina.

Îsa lê vegerand û got: «Hatiye nivîsîn: The Xudan Xwedayê we wê ji te ditirsin û wî bi tena xwe wê we re xizmetê bike." Lk. 4: heştan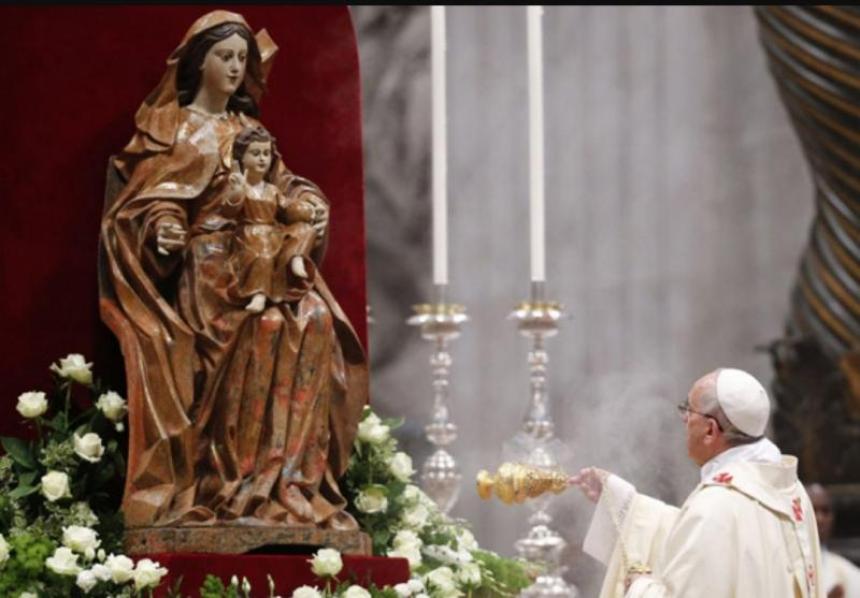 Dua ji bo Mary an hînkirina unscriptural e
Gelo em her tiştî îlmîhalan dibêje, di derbarê Meryem ji nû ve, em dê hêvî nebirina wan ya qada mezin ji bo wê. Ev yek dikare bê kirin, bêyî ku em wê ji bo îdiaya ku di Incîlê de bibînin, paşê em ji dil vê bigirin ne. Em li şûna ku divê li ser banga be di 1 Korîntî. 4: 6. "Ji bo ku tu hîn bi serweriya dema ku ew ji me re bê ku li paş ku Nivîsara Pîroz dibêje: herin ne."
Heger tu ji bo Nû û Peymana herin hîn yek dibîne û hemû ji bo Mary zarê ne. Em li ser ti xalan nedît ku Şandî * de hîn dikir Dêra Katolîk Mary nake. Ji ber vê yekê em van hînkirinên red dikin ji ber ku ew bi ser Pîroz ava ne.
Zanistiya di sedsala yekemîn de ne. Ev bi tenê piştî çend sedsalan e ku ew dest ji holê, ya Konseya Nicaea di 325 de, hingê li Efesê 431 vediguherîne ji mirovan Meryema * diya Xwedê. Piştre wê bikeve bi navên cuda cuda förebedjerska, virgin berdewam, bê guneh, nådeförmedlerska û co-redeemers.
Dêra Katolîk pir dirêj di warê kotê Meryemê û vê yekê jî heta niha ji çi Incîlê yên di derbarê wê de ye. Di benda 969 ya katolîk îlmîhalan vê dibêje: "Ev dayikan ji Mary li gor pergala * keremê ji bi erêkirina wê di baweriyê de li Mizgînîya da û ku ew bi şik û bi xaçê terkandin dest pê kir. Dema ku ew ji bo derneketiye ezmên, ji wê mîsyona rizgarker xwe ne. Ev bê navber dewam bikin heta ku hemû û her gihandine bêkêmahîtiyê Taybete. Bi saya mehderê berdabe xwe wê ji me zivêr û diyariyên xilasiya herheyî .... Ji ber vê yekê Virgin Xwezî wek mehdervanê, Patroness karandin, alîkariya ku piştgîriya û malavahiya nemîne. "
Ev ji bo Mary jîder, "mîsyona rizgarker xwe." Ev Îsa, bi tenê Îsa, yê ku mîsyona tomarkirinê ve ye. Ev dibêje katolîk ku Meryem jî ev heye. Ev add-on ji bo çi peyva Xwedê dibêje ye.
Compare ev bi peyamek zelal Xwedê: "Ne xilasî li wir e, û li ezmên, navekî din nehatiye ku mirov bi riya ku em bikarin pê xilas bibin e." (Acts 4:12).
"Ji ber vê yekê karandin ji Virgin Xwezî bi" Îsa ji me re hîn çawa dua bikin:: "Her tiştê ku hûn bi navê min, ez dê çi bixwazin, ku Bav divê bê birûmetkirin heman dikarin wêdetir çi Nivîsarên Pîroz dibêjin, ku hûn bêjin: be Kur. »Yûhenna. 14:13. Ev e, piştî şîretên Îsa, ne kitębęn Church ya katolîk, ku divê em li dû dema ku em dua bikin.
Mary bê guneh ji dayîk bû ye jî lêzêdekirina hatiye ku li Dêra Katolîk kirin, di Mizgîniyê de, dibêje ku hemû gel (Rom. 3:23) guneh kirine. Ev wek dawiyê weke sala 1854th dogma diyar
Hîn dû re, di dêrê ku Meryem nav ezmên, beden û canê hilkişandin, ev di sala 1950 de li ser Day Hemû Saints 'qewimî de biryar da ku hingî Pie XII, hîn di Church ya katolîk li xwe mikurhatinê Meryemê bi ezmên. Ev bi kurtasî li jêr ji bo Mary hat afirandin: "Virgin berxwedêr, ku xilas Bêguman jiyana dinyayî, beden û giyanê xwe de ketin nav rûmeta ezmanî ye."
Em belgeyên ku, di belavokeke Papa di sala 1950 de û ew e taybet būn ku îlaweya rasterast piştî ev hîndariya nû ya ku ji hînkirina katolîk ava kirin, diyar kir ku li jêr li ser kesekî, "bi dilxwazî ​​diwêrin înkar an goman e, ku em danasîn hatine, wî re hat gotin ku ew bi temamî ji baweriyê divine û katolîk de şehîd ketin. "
Erê, yek li vê gefê dike, şaş û zelal, bi ruhê Pope vir çi piştî ku ev hîndariya avakirin, ku hûn îdî ji divine û baweriya katolîk şehîd ketine. Ewil, tu baweriya xwedayî, ev dikare li ser peyva * Xwedê ne bê dîtin li wê derê, da ku ji ber vê yekê ew e bêtir, dijberî, ku ew ji text divine ketî eger yek dide xuyakirin ku, ev hîndariya, li gorî qanûna di 1950. Ew yek wê ji bikevin bawerî katolîk li şûna ku divê ji bo wek nîşana saxlem ne ji bo karikek jî bê sewqî bê, bê absconds doktrînên kemîna, ku Încîl ji me re dibêje to do.
Ji bo katolîk ku baweriya wan di vê civînê de kirin, divê dijwar be, bi van gefên vê fêrbûna mirovan qebûl nakin. Dibe ku ev jî ji te tirsiyam ji bo di vê bawer dikin û di vê civînê de bimînin, hingê baş ev daxuyaniya Kandayê bi fermana wî heye ku hemûyên ku gelê hê bêtir vê dêrê û hînkirinên kemîna stand.
Ma tu a katolîk, bişkînin, bi vê, bipirse ji bo bexşandina û tecrûbeya delectable Mizgîniya û azadiyê bi tendurîstî û azadiyê li Îsa Mesîh.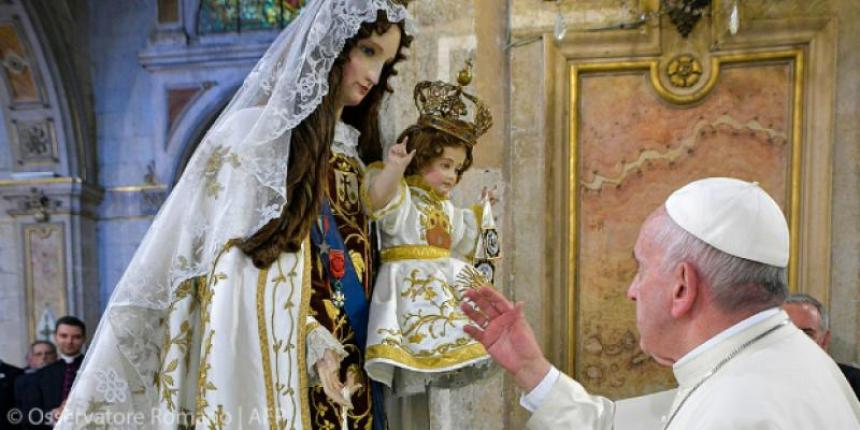 Dua ji bo Mary kemîna e
navenda Meryemê li Dêra Katolîk pir rast e û pir xirab ew e, ku ev Herweha Îsa, Kurê * Xwedê, Xilaskarê dinyayê. Ev li ser 400 salî ye, piştî ku Church Christian li Pentîkostê de dest pê kir ku, Maria, ji ber ku mirov bi mîsyona divine diguhere, ji bo bibe şahbanûya ezman, û yên din navên din.
Ev ji beherin ku kevneşopiya Mary û peykerên zarok di nav de ya Dêra Katolîk de propaxanda ye.
Ev kevneşopiya ku li ser sedsalan li Dêra Katolîk ji holê ye. Ji ber vê yekê, ev e, tu desthilatiya te bo vê adetên mirovan hene. baweriya * Mesîh de me, li ser desthilatî ji nivîsar û hîndariya Şandiyan, û ku jî qala diyardeyek Mary destê nebûna xwe dispêre. Ji ber vê yekê, em dikarin bi cesaret me ji hînkirinên xwe ya di derbarê Meryem azad.
Di hîndariya Şandiyan û di Ahîda Nû de ye ji hînkirinên ku li dora Mary pêşxistin ne, wê gavê em dikarin wan wek kemîna teklîf dike.
Dêra Katolîk bi şikbarîya biçûk ji hînkirinên Mizgîniyê di vî warî de dest pê kir. Ev e ji bo vekêşana a line ku çiqil ji xeta gavê de dê bibe pêşve dûr ji eslê xwe, bêtir ku xeta amadekirin. Îcar ew hatiye bi hînkirinên li ser Meryem li Dêra Katolîk bû.
Ev nivîsar e, ne ji bo şermezarkirina katolîk şexsî. Tu mezin dibin di van kevneşopiyeke ji Dêra Katolîk, ew bi hêsanî bi şaşî bi vê hînkirinê kor e. Ev nivîsîn dikare wekî alîkarî ji bo katolîk ji bo şikandina vê xirab hîn û tecrubeya hemû alî ji Îsa, yê ku rizgar dîtin, û bi vî awayî divê em ji Xwedê re dua bike.
Ev bi xemgînî ye ku em dibêjin ku Dêra Katolîk a dêrê, bi çend hînkirinên kemîna, yek ji yên ku kulta Mary e. Di rastiyê de, bi gelek awayan, nedipeyivî Mary ji kurê xwe, Îsa, vê dibêje, her tişt li ser çi hûn dikarin.
Ev e ji bo ku bibe xweşbîn pênebiran û qenciya pak û bila ev feraseta evsene yên Maria îlankirina ne. Em xwedî azadiya derbirînê, û ku em dikarin bi kar bînin da ku alîkarîya katolîk ji bo dûr ji hînkirinên xirab li ser Meryema.
Çi em li vir li ser Dêra Katolîk hatiye nivîsîn, divê her Helbet ji bo ku ez bi vî awayî. A rastî ev e ku, Dêra Katolîk û hînkirinên xwe eşkere eşkere dihatin. Îcar eşkere ye ku di dibistanan de ji bo nêzîkî sed sal berê weke beşek ji perwerdeya zarokên dibistanê. Hê çiqas zêdetir divê em ne di çarçoveya dêran ji bo be li ser zelal çi Dêra Katolîk de radiweste, ji bo, dema ku piştre di pirtûkên dewletê hest pê kir ku ev dê bibe beşek ji perwerdeya li dibistanan.
Em li nivîsandî di dîroka welêt yên C. T Odhner bêjin wê. Ev pirtûkên dersan de ji bo deh salan gelek ji bo perwerdeya zarokên dibistanê hate bikaranîn. Bi vî awayî ev yek diyar dike ku baweriya Katolîk dibêje ku hewayeke berî reformasyon zanisteke û saziyên katolîk bû: "Di baweriya * Mesîh de ji bav û kalên me de hat danbihîstin, bûn li Christianity safî ne, yên ku di Nivîsên Pîroz de çêkirin, hene, lê ji hînkirina katolîk. Ev yek di dema Helbet ji dem têkel bi gelek inventions mirovan bibe bû. Ew jî perizîn * ne sêtik a Xwedayê tenê, di heman demê de jî, û belkî hê bêtir, "Dayikên ji Xwedê" (Virgin Mary û li pîrozan. Ie, ji Xwedê ditirsiyan bi kesên ku piştî mirina wî, wek pîroz tê hesibandin bû û perizîn wek kotekê. Ev jî tê bawer kirin ku Papa ji Romayê Mesîh de bû walî yên li ser erdê û ji tevahiya Church ya Xudan, Ji ber vê yekê bi gotina hemû emrên wî, û wî bi navê "Bav Pîroz". Eger mirovek newêribû ji wî re dijî, ew bi jêavêtina ceze kirin, ango ji ku hevpariya we bi civîna bawermendan ên îbadetê û ji sacraments hiştin. "End quote Odhner.
Eger vî babetî dxwazîn ya Dêra Katolîk krîtîk e, ev yek rast e. Bi rastî jî, rexneyên li gorî tiştên ku mirov ji Xwedê di tevahiya dîrokê de hatine kirin gelekî sivik e. her kesî ne agahdar e ku navên mezin wek Wyckliff, Huss, Luther, Calvin, Melanchthon, Knox, Tyndale, Yûhenna û Charles Wesley hest pê kir ku li www.WorldsLastChance.com New fahîşeya mezin a ku li Peyxama şirove e, beşa read 17. Ev ji Xwedê dipeyive, ji dîwana * fahîşe.
Gelek ji wan ên Protestan dêrên jî ev di îtirafên xwe de. Çawa dikare vê yekê em di dema me de ji bîr? Em çawa dikarin di tifaqa ji bo xatirê tevgera fireh pênebiran herin bi katolîk? Ev dem ji bo me ye, di çopên dawiya-zemên, fêm Zelalî yên berî me hebû û bi lihevkirinê me bizanibe.
Em divê bi ya Xwedê bikin û gotina wî de zêdetir ji bêdeng be û qebûl bike vê dêrê, bi hînkirinên kemîna xwe. Çawa din em dikarin bêjin em bawer in ku peyva Xwedê û difikirin ku vê civînê de bi tenê yek ji hemû dêrên din?
Publicerades onsdag, 20 november 2019 16:41:40 +0100 i kategorin Gästblogg och i ämnena: