Man can not make himself righteous.
When the Bible says that a man is justified, it means that she is from God declared righteous, she is acquitted from his sin by judgment falls on Jesus Christ. He who justifies God himself.
Av:
Emma
söndag 24 november 2019 15:05
📧
Denna artikel är ett läsarmejl/gästblogg vilket innebär att åsikterna är skribentens egna!
The concepts of justification and righteousness do is completely central concepts of the Christian faith. The word justify in the Swedish translation of the Bible has been translated from the original Greek text, "dikaíoo", the word is a verb that means to legally declare someone innocent. The person is acquitted from the guilt she has. You can compare the concept of when a jury or a judge in a court explains some of the "not guilty".
When the Bible says that a man is justified, it means that she is from God declared righteous, she is acquitted from his sin by judgment falls on Jesus Christ. He who justifies God himself.

Man can not make himself righteous. Paul writes in 2 Corinthians 5:18, 19
"Everything comes from God, who reconciled us to himself through Christ and gave us the ministry of reconciliation. For God was in Christ reconciling the world to himself. He, not counting men's sins, and he has committed to us the word of reconciliation. "
"All have sinned and come short of the glory of God, and are justified freely to have earned it by his grace, because Christ Jesus has redeemed them." Romans 3:23, 24
One consequence of this justification by faith is that we have a peaceful relationship with God.
"Therefore being justified by faith, we have peace with God through our Lord Jesus Christ." Romans 5: 1
It is only the grace that comes to regard justification
"But since we know that man is not justified by works of the law but through faith in Jesus Christ, even we have believed in Christ Jesus, that we may be justified by faith in Christ and not by observing the law. For by works of the law no one be justified. "Galatians 2:16
This justification is clear and valid through the sacrificial death of Jesus, however, need to be received by faith of the individual to serve the salvation / justification for her.
There is thus no per-Automatic-salvation. Please note this is important!
In 2 Corinthians 5:20, 21 we read, "So we are ambassadors for Christ. It is God making his appeal through us. We ask on behalf of Christ , be reconciled to God. He who knew no sin, God has in our place made to be sin, for in him we might become the righteousness of God. "
Even in the Old Testament, we read of justification by faith. Both in 1 Exodus 15: 6, Romans 4: 3 and Galatians 3: 6 it says about Abram (= Abraham) how he believed God, and how it was accounted to him for righteousness. In Rom 3:21, 22, Paul says that now the righteousness of God has been revealed, being the law and the prophets bear witness, even the righteousness of God through faith in Jesus Christ for all who believe. We see in these verses how both the law and the prophets had been previously predicted justification by faith in Jesus Christ. The Bible tells us about how we will not only be justified by faith in Jesus Christ, but also about how he himself becomes our righteousness! Jeremiah 23: 6 and Jeremiah 33:16 speaks of the Lord our righteousness. Paul says in 1 Corinthians 1:30
"He has you to thank for that you are in Christ Jesus, whom God has made to us wisdom, righteousness, sanctification and redemption"
So it is the righteousness of Jesus Christ, the one who counts those who believe in him, that makes the Father declares us righteous. As we read now in the two posts, about Jesus Christ, our only hope, so did not God make man in the lurch when she was in the garden of Eden sinned against him, and chose to go his own way. We have read about God's plan of salvation, sending his beloved Son, Jesus, to make it possible for man to have an established peaceful relationship with him. Had it not been for Jesus Christ's sacrificial death and resurrection (Romans 4: 23-25), so we had all died of our sins, the death of Jesus talking about in John 8:24.
To end this post with this tribute proclamation of the Lord and Savior Jesus Christ.
"Although he was the form of God, did not consider equality with God as recompense but gave himself by adopting a slave he became man. He found in appearance as a man humbled himself and became obedient to death - even death on the cross. Therefore God also has highly exalted Him and given Him the name above every name, that at the name of Jesus every knee should bow, in heaven and on earth and under the earth, and every tongue confess God the Father honor that Jesus Christ is the Lord. "Philippians 2: 6-11.
Emma
Ditt stöd behövs
Stöd Apg29 genom att swisha in 29 kronor till 072 203 63 74.
Tack!
Respons
---
ANNONS:
---
Rekommenderas
Stor intervju med Christer Åberg i tidningen Världen idag. "Gud bar Christer efter höggravida fruns död." Både text och video!
---
Senaste live på Youtube

Direkt med Christer Åberg
---
DAGENS
Dagens datum
Vecka 24, onsdag 16 juni 2021 kl. 09:57
Dagens bibelord
"Så som en far förbarmar sig över barnen, så förbarmar sig HERREN över dem som vördar honom," (Psalm 103:13)
Dagens namn
Dagens bön
Fader möt var och en idag och omslut dem på alla sidor. Möt också . Jag ber att människor ska ta emot Jesus och bli frälsta. Tack för din stora kärlek och nåd som du har visat oss genom din Son Jesus kristus. Amen.
Så här blir du frälst - räddad
"Så älskade Gud världen att han utgav sin enfödde Son [Jesus], för att var och en som tror på honom inte ska gå förlorad utan ha evigt liv." - Joh 3:16
"Men så många som tog emot honom [Jesus], åt dem gav han rätt att bli Guds barn, åt dem som tror på hans namn." - Joh 1:12
"Om du därför med din mun bekänner att Jesus är Herren och i ditt hjärta tror att Gud har uppväckt honom från de döda, skall du bli frälst." - Rom 10:9
Vill du bli frälst och få alla dina synder förlåtna? Be den här bönen:
- Jesus, jag tar emot dig nu och bekänner dig som Herren. Jag tror att Gud har uppväckt dig från de döda. Tack att jag nu är frälst. Tack att du har förlåtit mig och tack att jag nu är ett Guds barn. Amen.
Tog du emot Jesus i bönen här ovan?
- Ja!
---
Fadern, Sonen och den Helige Ande är ett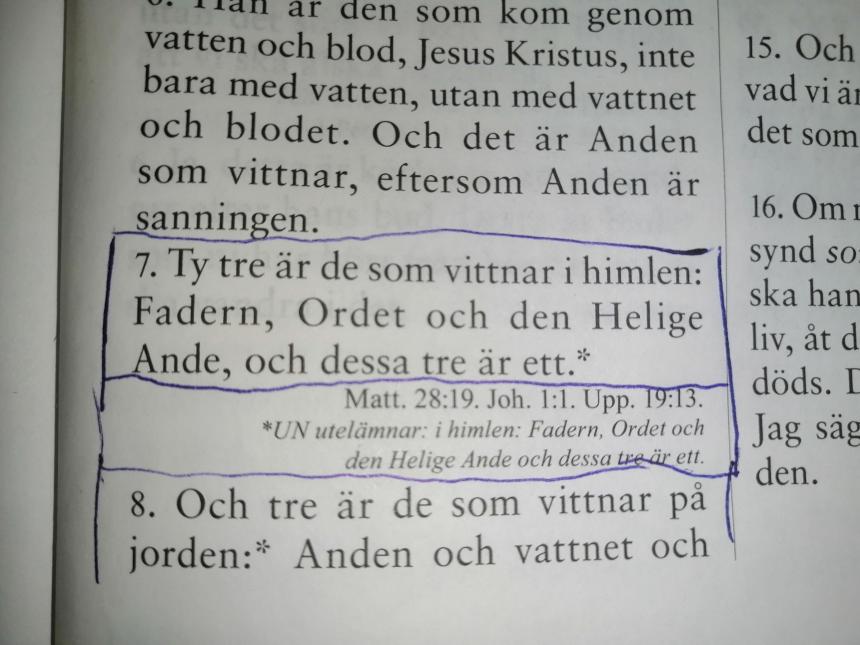 Bibeln är mycket tydlig. Fadern, Sonen och den helige Ande är tre - och dessa tre är ett!
---
Jesus var jämlik Gud, blev människa, dog på korset och Gud upphöjde honom
Var så till sinnes som också Kristus Jesus var, vilken, då han var i Guds gestalt, inte ansåg det som en rövad skatt att vara jämlik Gud, utan utgav sig själv, och tog på sig en tjänares gestalt, och blev lik oss människor. Och sedan han hade trätt fram som en människa ödmjukade han sig själv och blev lydig intill döden, ja, intill döden på korset. Därför har också Gud upphöjt honom och gett honom ett namn som är över alla namn, för att i Jesu namn alla knän ska böja sig, deras som är i himlen och på jorden och under jorden, och för att alla tungor ska bekänna att Jesus Kristus är Herren, Gud, Fadern, till ära. (Fil 2:5-11)
---
"Det enda som bär är Jesus. Det har Christer Åberg fått uppleva genom livets tuffa utmaningar. Christer är bloggare och författare och driver bland annat apg29.nu". - himlen.tv7
---
Christer Åbergs böcker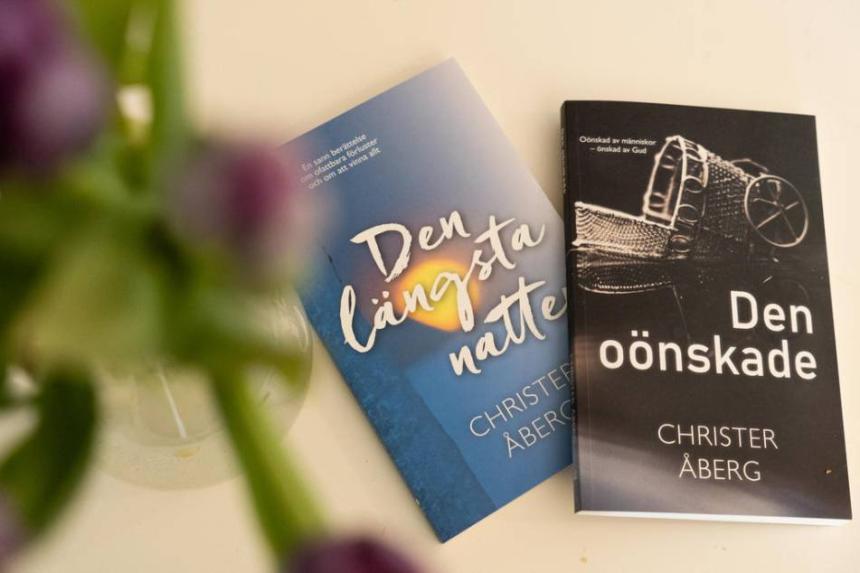 Den längsta natten och Den oönskade
---
Senaste bönämnet på Bönesidan
tisdag 15 juni 2021 22:42
Bed att Gud väcker M och öppnar hennes ögon. Herre led henne rätt igen.
---
Senaste kommentarer
---
Aktuella artiklar
---