Children's books about yoga
Yoga takes school and kindergarten.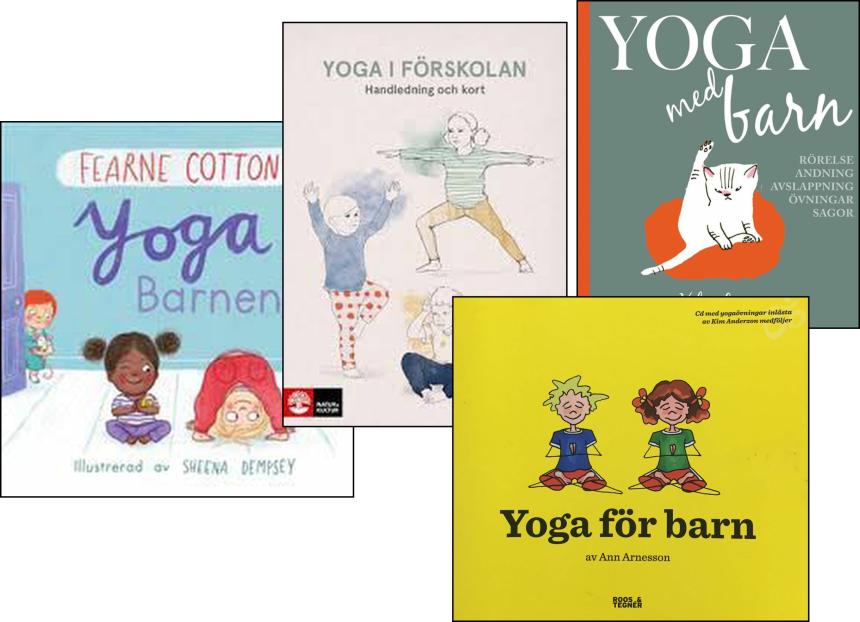 But what's happening now? Well, yoga is linked to Hinduism, may be freely practiced, both in kindergartens and schools!
---
Av
Holger Nilsson
söndag, 10 november 2019 02:56
---
Introducing Yoga for Swedish children in kindergartens and schools. It's time to speak up!
We now see a big change in preschool and school. Schools in Sweden had formerly part of a Christian nature, hymns and morning devotions.
Then came a time when the schools were free of Christian elements. After this has now changed the picture again, as the preschool and school now opened for yoga.
It's from leading politicians and school authorities emphasized how important it is to our school to be religiously neutral. No Christian or any other religion's impact will occur.
The latest is that from the government come out with the promise that schools will no longer be allowed. This proposal aims to stop that school children are exposed to religious influences.
But what's happening now? Well, yoga is linked to Hinduism, may be freely practiced, both in kindergartens and schools!
That now allows this and says that it is not about religion, just shows how religiously ignorant or naive you are. The fi NNS no acceptable justification for releasing the free yoga to kids.
We previously in a fl ertal items shown on the connection to Hinduism. Here fi NNS not space to elaborate on this, but we just want to point out that the fact that yoga has a central place in Hinduism, can not explain away. The word "yoga" can best be translated as "salvation". Thus a clear religious concepts.
Can also be mentioned that the most widespread of all Hindu scriptures in the western world is the Bhagavadgita. This book presents the Hindu god Krishna, the yoga master. Can connection to Hinduism be clearer? Even Education's management should be able to find this out.
Is it supposed to schools and preschools will be a place for advertising for yoga? Then you should also other religious forms and manifestations have the same space that yoga has.
For some, this is a form of influence, which creates an interest in yoga from an early age. This interest can then be developed to to register for courses with tutors, who earn big money from it awakened interest in yoga.
It is seen as an innocent ere of yoga for the smallest, can then develop into the most powerful form of yoga, kundaliniyogan. The fi NNS many cases where people have suffered greatly when practicing this form of yoga. For more information see: http://kundalini.se
Does the National Agency responsible for allowing yoga for children, which can be a gateway to something that ultimately leads to mental illness?
The article is from the magazine flames numbers two years 2018th
Publicerades söndag, 10 november 2019 02:56:27 +0100 i kategorin Gästblogg och i ämnena:
"God so loved the world that He gave His only begotten Son [Jesus], to every one that believeth in him should not perish but have eternal life." - 3:16
"But as many as received Him [Jesus], to them He gave the right to become children of God, to them that believe on his name." - John 1:12
"That if you confess with your mouth that Jesus is Lord and believe in your heart that God raised him from the dead, you will be saved." - Rome 10: 9
Want to get saved and get all your sins forgiven? Pray this prayer:
- Jesus, I receive you now and confess you as Lord. I believe that God raised you from the dead. Thank you that I am now saved. Thank you that you have forgiven me and thank you that I am now a child of God. Amen.
Did you receive Jesus in prayer above?
---
Senaste bönämnet på Bönesidan
söndag 5 april 2020 14:24
Barna sinne. Frihet i allt fri i hjärtat o tankar .Inga måsten. Kärlek är ett bröd som smakar gott o har liv. Tänkt så fint allting är. Allt är gott precis allt. Jesus lever i mitt hjärta
---
Senaste kommentarer
---
Aktuella artiklar
---